Hottest topic in my life – thought I'd share this article from Keeping Current Matters.
The talk of a housing bubble in the coming year seems to be at a fever pitch as rising mortgage rates continue to slow down an overheated real estate market. Over the past two years, home prices have appreciated at an unsustainable pace causing many to ask: are things just slowing down, or is a crash coming?
To answer this question, there are two things we want to understand. The first is the reality of the shift in today's housing market. And the second is what experts are saying about home prices in the coming year.
The Reality of the Shift in Today's Housing Market
The reality is we're seeing an inflection point in housing supply and demand. According to realtor.com, active listings have increased more than 26% over last year, while showings from the latest ShowingTime Showing Index have decreased almost 17% from last year (see graph below). This is an inflection point for housing because, over the past two years, we've seen a massive amount of demand (showings) and not enough homes available for sale for the number of people that wanted to buy. That caused the market frenzy.
Today, supply and demand look very different, and the market is slowing down from the pace we've seen. This offers proof of the sudden slowdown so many people are feeling.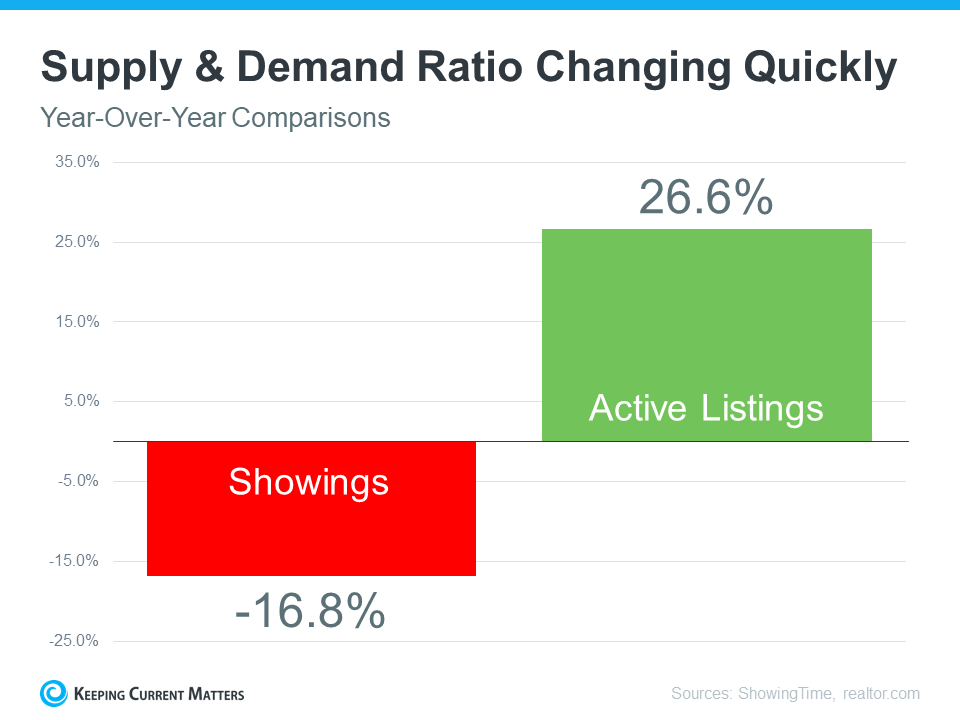 What Experts Are Saying About Home Prices in the Coming Year
Right now, most experts are forecasting home price appreciation in 2023, but at a much slower pace than the last two years. The average of the six forecasters below is for national home prices to appreciate by 2.5% in the coming year. Only one of the six is calling for home price depreciation.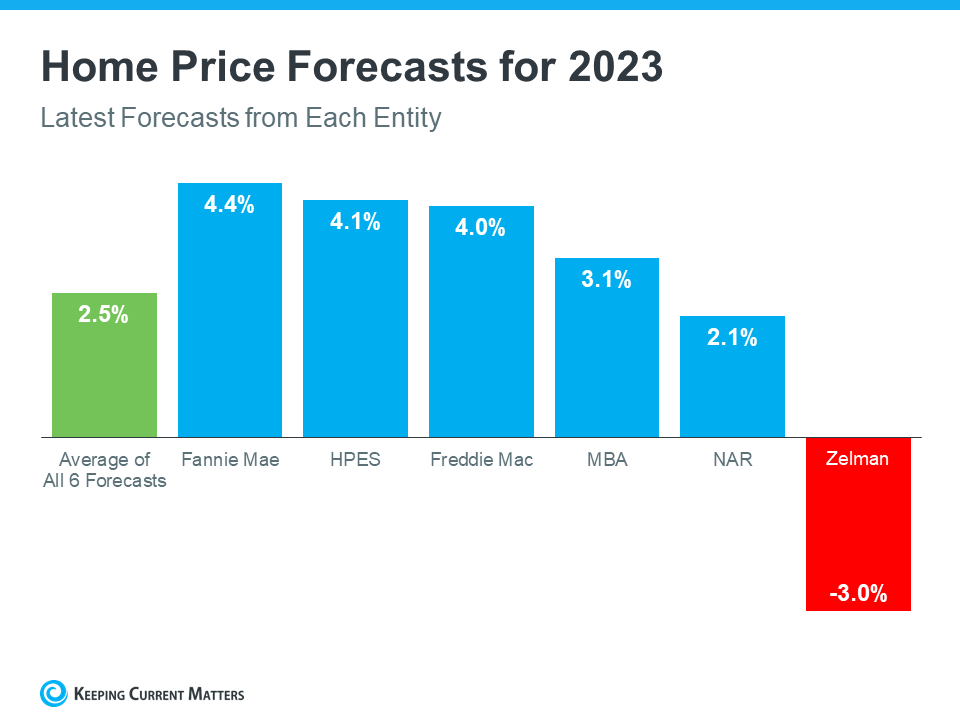 When we look at the shift taking place along with what experts are saying, we can conclude the national real estate market is slowing down but is not a bubble getting ready to burst. This isn't to say that a few overheated markets won't experience home price depreciation, but there isn't a case to be made for a national housing bubble.
Bottom Line
The real estate market is slowing down, and that's causing many to fear we're in a housing bubble. What we've experienced in the housing market over the past two years were historic levels of demand and constrained supply. That led to homes going up in value at a record pace. While some overheated markets may experience price depreciation in the short term, according to experts, the national real estate market will appreciate in the coming year.
My 2 Cents: Honestly, this is the market buyers have been waiting for who missed the loop in 2009. Real Estate moves in cycles, what goes up, goes down – but never down too low. And goes down, comes up – higher than we ever expected – and that's for the San Francisco / San Jose Silicon Valley.
I'm seeing buyer's slow down and recalculate their budget. I'm seeing sellers who need to sell, adjusting their expectations and dropping prices. I'm seeing sellers who want thier number – and won't budge – changing their strategy to the long game – if they can afford to – if they can't – see statment two :).
What truly matters – we all need a home to live in and owning your home place – is the key to long term wealth and security.
So don't listen to the hype. If you want to buy and stay in the Bay Area – your time to buy is here. If you're ready to leave and sell your Bay Area home – the sooner the better as we don't know when the bottom will come, or how fast we will recover. But we will recover.
Got Questions? The Caton Team is here to help.
Call | Text | Sabrina 650.799.4333 | EMAIL | WEB | BLOG
We love what we do and would love to help you navigate your sale or purchase of Residential Real Estate. Please reach out at your convenience for a personal consultation. Please enjoy our free resources below and get to know our team through our clients' words. Testimonials.
How can The Caton Team help You?
Call | Text | Sabrina 650.799.4333 | Susan 650.796.0654 | EMAIL | WEB | BLOG
Get exclusive inside access when you follow us on Facebook & Instagram
HOW TO SELL during COVID-19 – HOW TO SELL – HOW TO BUY during COVID-19- – HOW TO BUY – MOVING MID PANDEMIC – TRUST AGREEMENTS and HEALTH CARE DIRECTIVES – OUR TESTIMONIALS
Got Real Estate Questions? The Caton Team is here to help.
We strive to be more than just Realtors – we are also your home resource. If you have any real estate questions, concerns, need a referral or some guidance – we are here for you. Contact us at your convenience – we are but a call, text or click away!
The Caton Team believes, in order to be successful in the San Fransisco | Peninsula | Bay Area | Silicon Valley Real Estate Market we have to think and act differently. We do this by positioning our clients in the strongest light, representing them with the utmost integrity, while strategically maneuvering through negotiations and contracts. Together we make dreams come true.
A mother and daughter-in-law team with over 35 years of combined, local Real Estate experience and knowledge – would't you like The Caton Team to represent you? Let us know how we can be of service. Contact us any time.
Call | Text | Sabrina 650.799.4333 | Susan 650.796.0654 |EMAIL | WEB| BLOG
The Caton Team – Susan & Sabrina
A Family of Realtors
Effective. Efficient. Responsive.
What can we do for you?
The Caton Team Testimonials | The Caton Team Blog – The Real Estate Beat | TheCatonTeam.com | Facebook | Instagram | HomeSnap | Pintrest | LinkedIN Sabrina | LinkedIN Susan
Want Real Estate Info on the Go? Download our FREE Real Estate App: Mobile Real Estate by The Caton Team
Berkshire Hathaway HomeServices – Drysdale Properties
DRE # |Sabrina 01413526 | Susan 01238225 | Team 70000218 |Office 01499008
The Caton Team does not receive compensation for any posts. Information is deemed reliable but not guaranteed. Third party information not verified.