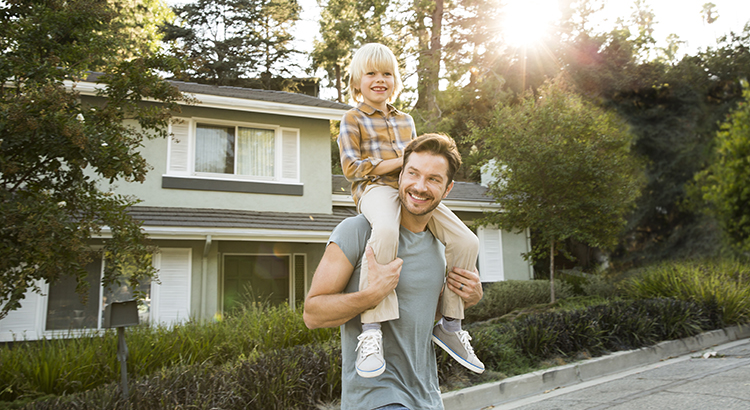 Once you've applied for a mortgage to buy a home, there are some key things to keep in mind. While it's exciting to start thinking about moving in and decorating, be careful when it comes to making any big purchases. Here are a few things you may not realize you need to avoid after applying for your home loan.
Don't Deposit Large Sums of Cash
Lenders need to source your money, and cash isn't easily traceable. Before you deposit any amount of cash into your accounts, discuss the proper way to document your transactions with your loan officer.
Don't Make Any Large Purchases
It's not just home-related purchases that could disqualify you from your loan. Any large purchases can be red flags for lenders. People with new debt have higher debt-to-income ratios (how much debt you have compared to your monthly income). Since higher ratios make for riskier loans, borrowers may no longer qualify for their mortgages. Resist the temptation to make any large purchases, even for furniture or appliances.
Don't Co-Sign Loans for Anyone
When you co-sign for a loan, you're making yourself accountable for that loan's success and repayment. With that obligation comes higher debt-to-income ratios as well. Even if you promise you won't be the one making the payments, your lender will have to count the payments against you.
Don't Switch Bank Accounts
Lenders need to source and track your assets. That task is much easier when there's consistency among your accounts. Before you transfer any money, speak with your loan officer.
Don't Apply for New Credit
It doesn't matter whether it's a new credit card or a new car. When you have your credit report run by organizations in multiple financial channels (mortgage, credit card, auto, etc.), it will have an impact on your FICO® score. Lower credit scores can determine your mortgage interest rate and possibly even your eligibility for approval.
Don't Close Any Accounts
Many buyers believe having less available credit makes them less risky and more likely to be approved. This isn't true. A major component of your score is your length and depth of credit history (as opposed to just your payment history) and your total usage of credit as a percentage of available credit. Closing accounts has a negative impact on both of those aspects of your score.
In Short, Consult an Expert
To sum it up, be upfront about any changes when talking with your lender. Blips in income, assets, or credit should be reviewed and executed in a way that ensures your home loan can still be approved. If your job or employment status has changed recently, share that with your lender as well. Ultimately, it's best to fully disclose and discuss your intentions with your loan officer before you do anything financial in nature.
Bottom Line
You want your home purchase to go as smoothly as possible. Remember, before you make any large purchases, move your money around, or make any major life changes, be sure to consult your lender – someone who's qualified to explain how your financial decisions may impact your home loan.
My Two Cents: Your home loan is the most important part of your homeowner journey. The Loan Approval is literally a snapshot of your current financial picture and you DO NOT want to change that picture. If you need to move money around, gather gift funds, pay off debt, etc – do so BEFORE YOU APPLY and keep a paper trail! However, The Caton Team highly recommends that you speak with a lender before you do anything. This ensures you're doing the right things that do not impact your credit score negatively.
Got Questions? The Caton Team is here to help.
Call | Text | Sabrina 650.799.4333 | EMAIL | WEB | BLOG
We love what we do and would love to help you navigate your sale or purchase of Residential Real Estate. Please reach out at your convenience for a personal consultation. Please enjoy our free resources below and get to know our team through our clients' words. Testimonials.
How can The Caton Team help You?
Call | Text | Sabrina 650.799.4333 | Susan 650.796.0654 | EMAIL | WEB | BLOG
Get exclusive inside access when you follow us on Facebook & Instagram
HOW TO SELL during COVID-19 – HOW TO SELL – HOW TO BUY during COVID-19- – HOW TO BUY – MOVING MID PANDEMIC – TRUST AGREEMENTS and HEALTH CARE DIRECTIVES – OUR TESTIMONIALS
Got Real Estate Questions? The Caton Team is here to help.
We strive to be more than just Realtors – we are also your home resource. If you have any real estate questions, concerns, need a referral or some guidance – we are here for you. Contact us at your convenience – we are but a call, text or click away!
The Caton Team believes, in order to be successful in the San Fransisco | Peninsula | Bay Area | Silicon Valley Real Estate Market we have to think and act differently. We do this by positioning our clients in the strongest light, representing them with the utmost integrity, while strategically maneuvering through negotiations and contracts. Together we make dreams come true.
A mother and daughter-in-law team with over 35 years of combined, local Real Estate experience and knowledge – would't you like The Caton Team to represent you? Let us know how we can be of service. Contact us any time.
Call | Text | Sabrina 650.799.4333 | Susan 650.796.0654 |EMAIL | WEB| BLOG
The Caton Team – Susan & Sabrina
A Family of Realtors
Effective. Efficient. Responsive.
What can we do for you?
The Caton Team Testimonials | The Caton Team Blog – The Real Estate Beat | TheCatonTeam.com | Facebook | Instagram | HomeSnap | Pintrest | LinkedIN Sabrina | LinkedIN Susan
Want Real Estate Info on the Go? Download our FREE Real Estate App: Mobile Real Estate by The Caton Team
Berkshire Hathaway HomeServices – Drysdale Properties
DRE # |Sabrina 01413526 | Susan 01238225 | Team 70000218 |Office 01499008
The Caton Team does not receive compensation for any posts. Information is deemed reliable but not guaranteed. Third party information not verified.