Lately, there have been many studies exploring the benefits of spending time outside in nature, but did you know you can also gain many of those benefits – and more – by bringing plants into your home? Houseplants not only freshen the air in your home, but they can also help remove harmful toxins from the air. The calming influence of plants can help you concentrate and improve your memory. Plants and flowers can also make you happier and heal faster. Here are five easy-to-grow houseplants that have the added benefit of being great air filters.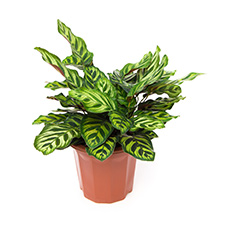 Calathea
Also known as the "peacock plant," this popular houseplant, which has many varieties, is known for its wide colorful leaves. Calathea do well with limited water and low light, but will not tolerate lots of direct light.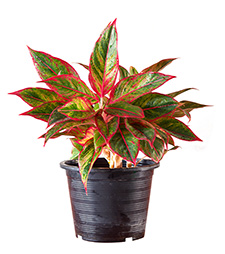 Chinese Evergreen
This highly decorative houseplant comes in a range of color variations–dark to light green, silver, yellow, and red. While it does well in low light, the Chinese Evergreen doesn't like cold temps and needs to be kept moist. Note: Toxic to humans and pets when ingested.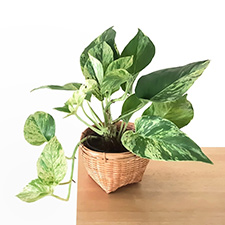 Pothos (Devil's Ivy)
These versatile plants come in a wide variety of patterns and colors. Very tolerant to low light, Pothos needs watering only once per week. These houseplants die if you overdo it with the watering can. Note: Toxic to humans and pets when ingested.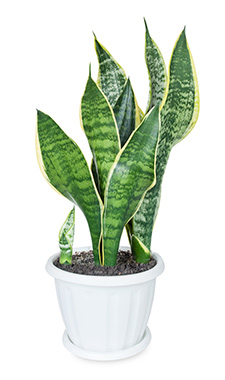 Snake Plant
Like its namesake, the snake plant loves to bask in the light and needs very little water. Let these plants completely dry out between waterings and give them good drainage – the roots will rot if kept damp. Mildly toxic to humans and pets if ingested.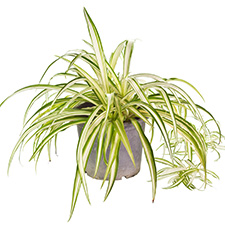 Spider Plant
Although they look delicate, these tough plants can grow in a wide range of conditions. If you want this plant to thrive, it likes bright light, good drainage, and a chance to dry out between waterings.
As noted, some of these houseplants (and other common houseplants such as ivy and lilies) are toxic to humans and pets. If you have small children, or dogs or cats that like to nibble on greens, you might want to pass on some of these, or consider hanging plants. If you have other indoor plants you like, and want to check to see if they are safe, check out the ASPCA searchable list of plants poisonous to pets.
I read this article at: HERE
Got Real Estate Questions?   The Caton Team is here to help.
We strive to be more than just Realtors – we are also your home resource. If you have any real estate questions, concerns, need a referral or some guidance – we are here for you. Contact us at your convenience – we are but a call, text or click away!
The Caton Team believes, in order to be successful in the San Fransisco | Peninsula | Bay Area | Silicon Valley Real Estate Market we have to think and act differently. We do this by positioning our clients in the strongest light, representing them with the utmost integrity, while strategically maneuvering through negotiations and contracts. Together we make dreams come true.
A mother and daughter-in-law team with over 35 years of combined, local Real Estate experience and knowledge – would't you like The Caton Team to represent you? Let us know how we can be of service. Contact us any time.
Call | Text | Sabrina 650.799.4333 | Susan 650.796.0654
Email |   Info@TheCatonTeam.com
The Caton Team – Susan & Sabrina
A Family of Realtors
Effective. Efficient. Responsive.
What can we do for you?
The Caton Team Testimonials | The Caton Team Blog – The Real Estate Beat | TheCatonTeam.com | Facebook | Instagram | HomeSnap | Pintrest | LinkedIN Sabrina | LinkedIN Susan
Want Real Estate Info on the Go?  Download our FREE Real Estate App:  Mobile Real Estate by The Caton Team
Berkshire Hathaway HomeServices – Drysdale Properties
DRE # |Sabrina 01413526 | Susan 01238225 | Team 70000218 |Office 01499008
The Caton Team does not receive compensation for any posts.  Information is deemed reliable but not guaranteed. Third party information not verified.