If you're a homeowner thinking about selling your house, you're probably looking for the best time to make your move. That means you're likely balancing a number of factors, like your changing needs, where you'll go when you sell, and today's mortgage rates in order to time it just right.
According to recent data, that sweet spot could already be here. The latest Home Purchase Sentiment Index (HPSI) by Fannie Mae finds that 76% of consumers believe now is a good time to sell.
The graph below shows the percentage of survey respondents who say it's a good time to sell a house. The big dip in March and April of 2020 reflects how consumer sentiment dropped at the beginning of the pandemic as uncertainty about the health crisis grew. Since then, the percentage has grown consistently as more people feel confident it's a good time to sell.
In fact, survey respondents think it's an even better time to sell a house today than they did in 2019, which was a strong year for the housing market. The latest survey results indicate one of the strongest peaks in seller sentiment in nearly three years (see graph below):
(see graph below):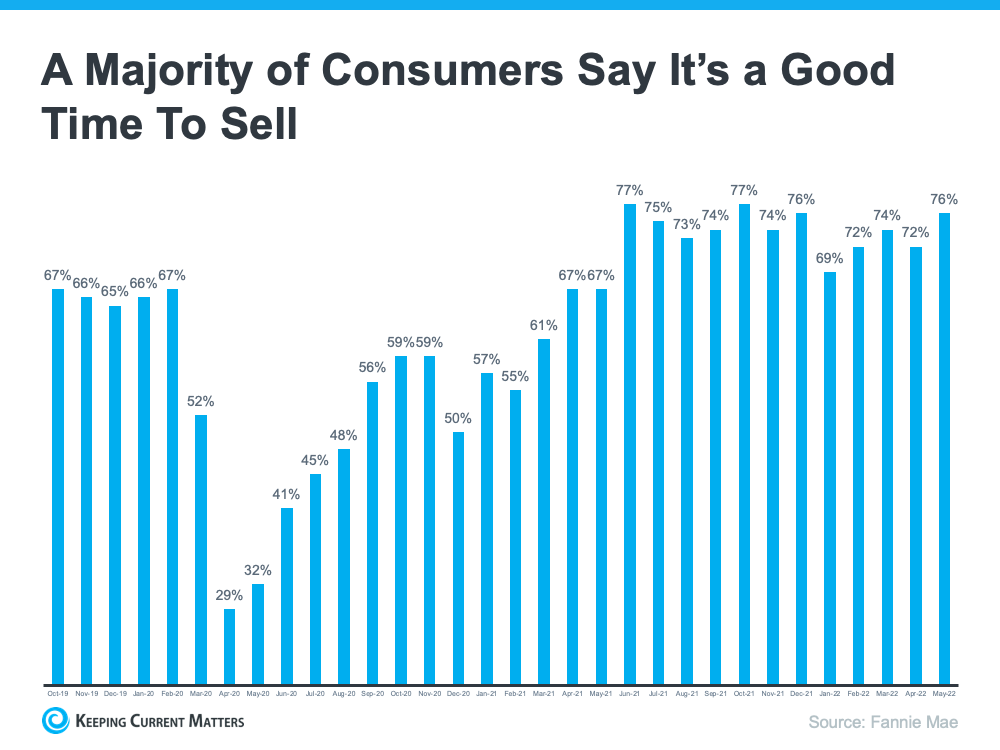 What Makes Today a Good Time To Sell?
One reason so many people think it's a good time to sell is because there are still more buyers in today's market than there are homes for sale. That's driving home prices up, making it a good time to sell your house.
And if you're on the fence about whether or not to sell because you don't know where you'll go once you do, know that you might have more options today than in previous months. That's because the number of homes coming onto the market has grown each month since the start of the year. When more homes come onto the market, it gives you more opportunities to find one that meets your changing needs.
Bottom Line
While the number of homes available for sale is growing and giving you more options for your move, inventory is still low overall. That could mean it's a great time for you to sell. If you're ready to address your changing needs and take advantage of today's favorable conditions, contact The Caton Team
Call | Text | Sabrina 650.799.4333 | Susan 650.796.0654 | EMAIL | WEB | BLOG
The Caton Team is here to help.
We love what we do and would love to help you navigate your sale or purchase of Residential Real Estate. Please reach out at your convenience for a personal consultation. Please enjoy our free resources below and get to know our team through our clients' words. Testinmonials.
How can The Caton Team help You?
Call | Text | Sabrina 650.799.4333 | Susan 650.796.0654 | EMAIL | WEB | BLOG
Get exclusive inside access when you follow us on Facebook & Instagram
HOW TO SELL during COVID-19 – HOW TO SELL – HOW TO BUY during COVID-19- – HOW TO BUY – MOVING MID PANDEMIC – TRUST AGREEMENTS and HEALTH CARE DIRECTIVES – OUR TESTIMONIALS
Got Real Estate Questions? The Caton Team is here to help.
We strive to be more than just Realtors – we are also your home resource. If you have any real estate questions, concerns, need a referral or some guidance – we are here for you. Contact us at your convenience – we are but a call, text or click away!
The Caton Team believes, in order to be successful in the San Fransisco | Peninsula | Bay Area | Silicon Valley Real Estate Market we have to think and act differently. We do this by positioning our clients in the strongest light, representing them with the utmost integrity, while strategically maneuvering through negotiations and contracts. Together we make dreams come true.
A mother and daughter-in-law team with over 40 years of combined, local Real Estate experience and knowledge – would't you like The Caton Team to represent you? Let us know how we can be of service. Contact us any time.
Call | Text | Sabrina 650.799.4333 | Susan 650.796.0654 |EMAIL | WEB| BLOG
The Caton Team – Susan & Sabrina
A Family of Realtors
Effective. Efficient. Responsive.
What can we do for you?
The Caton Team Testimonials | The Caton Team Blog – The Real Estate Beat | TheCatonTeam.com | Facebook | Instagram | HomeSnap | Pintrest | LinkedIN Sabrina | LinkedIN Susan
Want Real Estate Info on the Go? Download our FREE Real Estate App: Mobile Real Estate by The Caton Team
Berkshire Hathaway HomeServices – Drysdale Properties
DRE # |Sabrina 01413526 | Susan 01238225 | Team 70000218 |Office 01499008
The Caton Team does not receive compensation for any posts. Information is deemed reliable but not guaranteed. Third party information not verified.