Sometimes the choice to downsize isn't actually a choice. Some life events, such as a divorce or unemployment, are unexpected and force you to find a smaller home for financial reasons. But choosing to live in less space often has to do with wanting to live simpler, whether you're retiring, empty-nesting, or wanting a low-maintenance lifestyle.
Most homeowners typically don't daydream about buying a smaller home, but minimal maintenance is definitely an upside to living smaller. After all, the time and money you used to spend on maintaining can now go towards fun things. Downsizing can definitely be a positive lifestyle change. Many older adults are leaving the suburbs behind and moving into condos or lofts in downtown areas. Not only are these homes easier to maintain, but they are often within walking distance of restaurants and nightlife.
The Costs of Downsizing
It sounds simple: you're going to spend less than you would for a larger house, so the only financial consideration is: do you like saving money? Of course the answer is yes, but…not so fast. It's easy to forget that fewer rooms will mean less space for all of your stuff, and it's even easier to forget that storage can cost you money. Also consider that condos or retirement communities may have considerable HOA (home owners association) dues.
When moving to a smaller home, sometimes even your furniture needs to be downsized. Large pieces may look out of scale and may simply not fit. So if you have furniture that's too large for some of your rooms, like the king-sized bed, you may need to replace it.
Though buying smaller furniture can cost less than larger pieces, you still may be spending a lot of money on replacing furniture. You could find yourself wondering why downsizing is costing so much! Make a plan for selling or giving away things you no longer need and keep track of potential costs for a better sense of downsizing costs.
Also, carefully consider things like family heirlooms. Fewer rooms mean less storage space and where will you keep all of your antiques and treasures that you just can't take with you? You may have to make some tough decisions. Holding on to things for sentimental reasons can become a burden. Check with other family members to see if they are interested in the overflow, things like an old roll-top desk can be a welcome gift for a college student in the family.
Finding the Right Home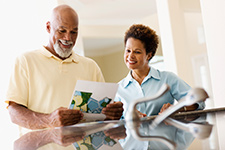 If you've decided your current home no longer fits your lifestyle or your income, it's time to start looking for something more suitable or more economical. Sometimes downsizing means less property, not less home. You'll need to determine the right amount of property as well as living space.
When it comes to low maintenance and convenience, an "attached" home – such as a townhouse, condo, loft, or co-op, in which you share walls and/or common areas with your neighbors – is a popular choice. You won't have to worry about fixing the roof or mowing the lawn. But keep in mind that these homes are managed by homeowners' associations (HOAs), which collect monthly fees for maintenance services and impose rules for the community. So research the HOA before buying.
Lastly, when shopping for a smaller home, know how small you're willing to go, and be prepared to make some adjustments.
The Neighborhoods and Areas for You
If you'd like to stay in the same city, you might want to look for neighborhoods or communities that are closer to the center of town or downtown. This is especially helpful if you work downtown and want to keep your commuting costs low. Also, shopping and hospitals are usually closer to the center of town. Oftentimes, neighborhoods with a high-concentration of detached homes and condos are also pedestrian-friendly, meaning everything you need can be found within walking distance.
Also consider buying in up-and-coming neighborhoods: you might find an affordable home that could potentially increase in value once the area is fully developed. And, of course, your real estate agent will know where the smaller homes in quality neighborhoods houses are. Once you've decided downsizing is right for you and you've found the perfect new home, check out How to Downsize Your Home.
I read this article at: HERE
Got Real Estate Questions?   The Caton Team is here to help.
We strive to be more than just Realtors – we are also your home resource. If you have any real estate questions, concerns, need a referral or some guidance – we are here for you. Contact us at your convenience – we are but a call, text or click away!
The Caton Team believes, in order to be successful in the San Fransisco | Peninsula | Bay Area | Silicon Valley Real Estate Market we have to think and act differently. We do this by positioning our clients in the strongest light, representing them with the utmost integrity, while strategically maneuvering through negotiations and contracts. Together we make dreams come true.
A mother and daughter-in-law team with over 35 years of combined, local Real Estate experience and knowledge – would't you like The Caton Team to represent you? Let us know how we can be of service. Contact us any time.
Call | Text | Sabrina 650.799.4333 | Susan 650.796.0654
Email |   Info@TheCatonTeam.com
The Caton Team – Susan & Sabrina
A Family of Realtors
Effective. Efficient. Responsive.
What can we do for you?
The Caton Team Testimonials | The Caton Team Blog – The Real Estate Beat | TheCatonTeam.com | Facebook | Instagram | HomeSnap | Pintrest | LinkedIN Sabrina | LinkedIN Susan
Want Real Estate Info on the Go?  Download our FREE Real Estate App:  Mobile Real Estate by The Caton Team
Berkshire Hathaway HomeServices – Drysdale Properties
DRE # |Sabrina 01413526 | Susan 01238225 | Team 70000218 |Office 01499008
The Caton Team does not receive compensation for any posts.  Information is deemed reliable but not guaranteed. Third party information not verified.