Will Home Prices Fall This Year? Here's What Experts Say.
Many people are wondering: will home prices fall this year? Whether you're a potential homebuyer, seller, or both, the answer to this question matters for you. Let's break down what's happening with home prices, where experts say they're headed, and how this impacts your homeownership goals.
What's Happening with Home Prices?
Home prices have seen 121 consecutive months of year-over-year increases. CoreLogic says:
"Price appreciation averaged 15% for the full year of 2021, up from the 2020 full year average of 6%."
So why are prices climbing so much? It's because there are more buyers than there are homes for sale. This imbalance is expected to maintain that upward pressure on home prices because homes for sale are a hot commodity in today's low-inventory housing market.
Where Do Experts Say Prices Will Go from Here?
Experts say the housing market isn't set up for a price decline due to that ongoing imbalance between supply and demand. In the latest home price forecasts for 2022, they're calling for ongoing appreciation throughout the year (see graph below):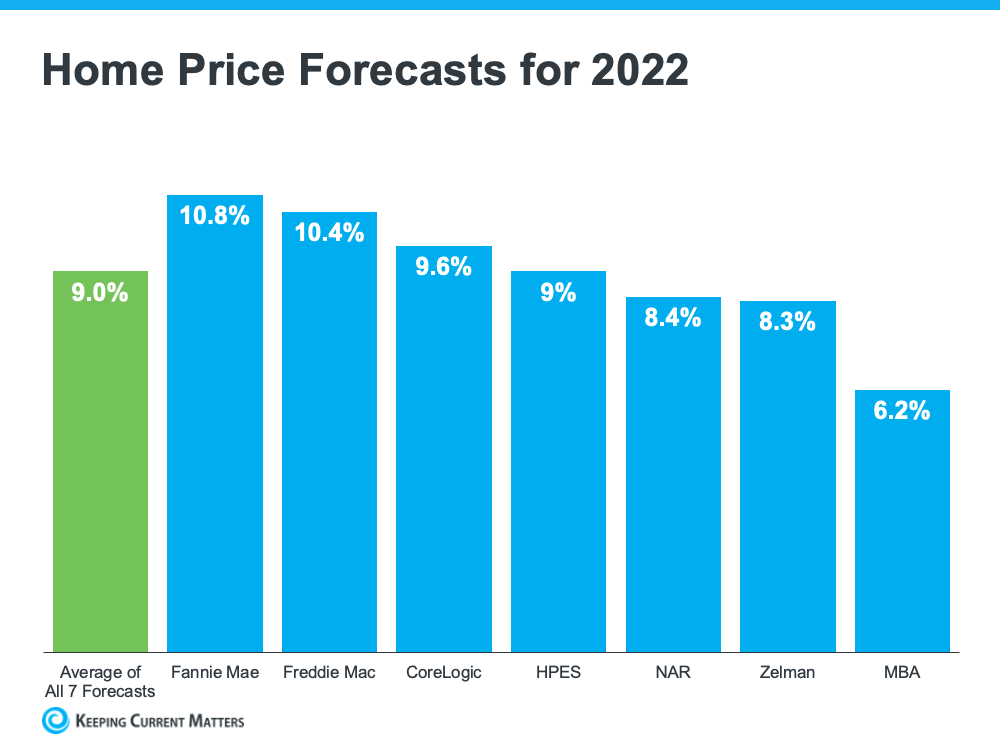 While the experts are forecasting more moderate price appreciation, the 2022 projections show price gains will remain strong throughout this year. First American explains it like this:
"While house price growth is expected to moderate from the rapid pace of 2021, strong home buyer demand against a backdrop of historically tight inventory of homes for sale will likely keep appreciation positive in the coming year."
What Does That Mean for You?
The biggest takeaway is that none of the experts are projecting depreciation. If you're a homeowner thinking about selling, the higher price appreciation over the last two years has been great for your home's value, but it's also something you should factor in when planning your next steps. If you'll also be buying a home after selling your current house, you shouldn't wait for prices to fall. Waiting will only cost you more in the long run because climbing mortgage rates and rising home prices will have an impact on your next home purchase. Freddie Mac says:
"If you're thinking about waiting until next year and that maybe rates are higher, but you'll get a deal on prices – well that's risky. It may be more advantageous to purchase this year relative to waiting until 2023 at this time."
Bottom Line
If you're thinking of selling to move up, you shouldn't wait for prices to fall. Experts say prices will continue to appreciate this year. That means, if you're ready, buying your next home before prices climb further may make the most financial sense. Partner with a real estate professional to begin the process of selling your current home and looking for your next one before prices rise higher.
How can The Caton Team help You?
Turning Real Estate Goals into Reality
The Caton Team loves what we do and would love to help you – please enjoy our resources below and get to know our team through our clients words.
Call | Text | Sabrina 650.799.4333 | Susan 650.796.0654 | EMAIL | WEB | BLOG
Get exclusive inside access when you follow us on Facebook & Instagram
HOW TO SELL during COVID-19 – HOW TO SELL – HOW TO BUY during COVID-19- – HOW TO BUY – MOVING MID PANDEMIC – TRUST AGREEMENTS and HEALTH CARE DIRECTIVES – OUR TESTIMONIALS
Got Real Estate Questions? The Caton Team is here to help.
We strive to be more than just Realtors – we are also your home resource. If you have any real estate questions, concerns, need a referral or some guidance – we are here for you. Contact us at your convenience – we are but a call, text or click away!
The Caton Team believes, in order to be successful in the San Fransisco | Peninsula | Bay Area | Silicon Valley Real Estate Market we have to think and act differently. We do this by positioning our clients in the strongest light, representing them with the utmost integrity, while strategically maneuvering through negotiations and contracts. Together we make dreams come true.
A mother and daughter-in-law team with over 35 years of combined, local Real Estate experience and knowledge – would't you like The Caton Team to represent you? Let us know how we can be of service. Contact us any time.
Call | Text | Sabrina 650.799.4333 | Susan 650.796.0654 |EMAIL | WEB| BLOG
The Caton Team – Susan & Sabrina
A Family of Realtors
Effective. Efficient. Responsive.
What can we do for you?
The Caton Team Testimonials | The Caton Team Blog – The Real Estate Beat | TheCatonTeam.com | Facebook | Instagram | HomeSnap | Pintrest | LinkedIN Sabrina | LinkedIN Susan
Want Real Estate Info on the Go? Download our FREE Real Estate App: Mobile Real Estate by The Caton Team
Berkshire Hathaway HomeServices – Drysdale Properties
DRE # |Sabrina 01413526 | Susan 01238225 | Team 70000218 |Office 01499008
The Caton Team does not receive compensation for any posts. Information is deemed reliable but not guaranteed. Third party information not verified.