Source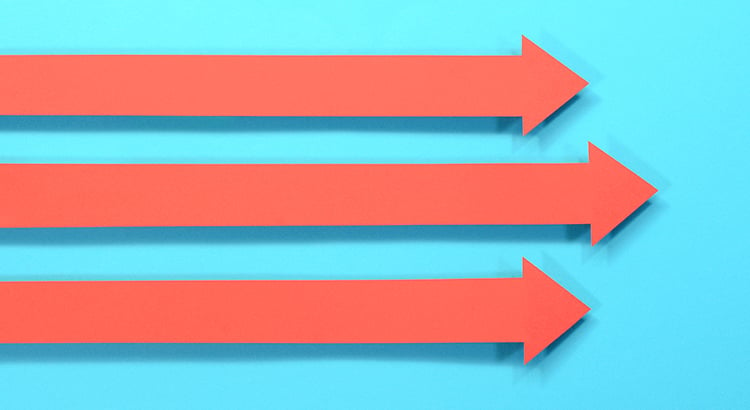 If you're planning to buy a home, it's critical to understand the relationship between mortgage rates and your purchasing power. Purchasing power is the amount of home you can afford to buy that's within your financial reach. Mortgage rates directly impact the monthly payment you'll have on the home you purchase. So, when rates rise, so does the monthly payment you're able to lock in on your home loan. In a rising-rate environment like we're in today, that could limit your future purchasing power.
Today, the average 30-year fixed mortgage rate is above 5%, and in the near term, experts say that'll likely go up in the months ahead. You have the opportunity to get ahead of that increase if you buy now before that impacts your purchasing power.
Mortgage Rates Play a Large Role in Your Home Search
The chart below can help you understand the general relationship between mortgage rates and a typical monthly mortgage payment within a range of loan amounts. Let's say your budget allows for a monthly mortgage payment in the $2,100-$2,200 range. The green in the chart indicates a payment within that range, while the red is a payment that exceeds it (see chart below):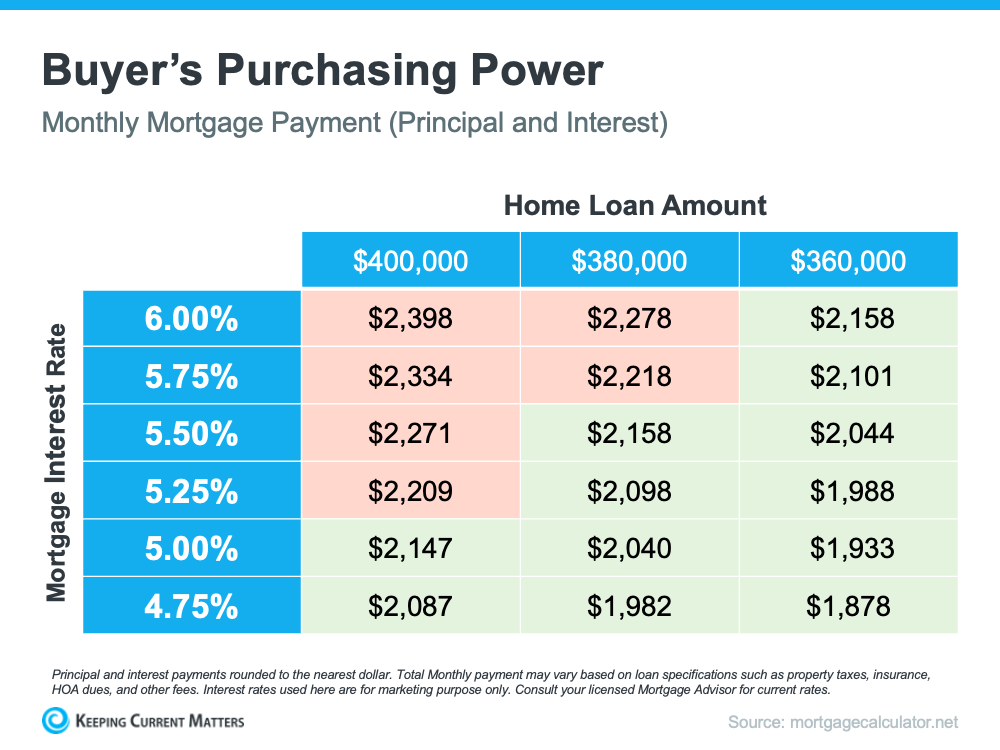 As the chart shows, you're more likely to exceed your target payment range as mortgage rates increase unless you pursue a lower home loan amount. If you're ready to buy a home, use this as your motivation to purchase now so you can get ahead of rising rates before you have to make the decision to decrease what you borrow in order to stay comfortably within your budget.
Work with Trusted Advisors To Know Your Budget and Make a Plan
It's critical to keep your budget top of mind as you're searching for a home. Danielle Hale, Chief Economist at realtor.com, puts it best, advising that buyers should:
"Get preapproved with where rates are today, but also consider what would happen if rates were to go up, say another quarter of a point, . . . Know what that would do to your monthly costs and how comfortable you are with that, so that if rates do move higher, you already know how you need to adjust in response."
No matter what, the best strategy is to work with your real estate advisor and a trusted lender to create a plan that takes rising mortgage rates into consideration. Together, you can look at your budget based on where rates are today and craft a strategy so you're ready to adjust as rates change.
Bottom Line
Even small increases in mortgage rates can impact your purchasing power. If you're in the process of buying a home, it's more important than ever to have a strong plan. Partner with a trusted real estate advisor and lender to strategize so you can achieve your dream of homeownership this season.
The Caton Team is here help.
We love what we do and would love to help you – please reach out at your convenience and enjoy our resources below. Get to know our team through our clients words.
Call | Text | Sabrina 650.799.4333 | Susan 650.796.0654 | EMAIL | WEB | BLOG
Get exclusive inside access when you follow us on Facebook & Instagram
HOW TO SELL during COVID-19 – HOW TO SELL – HOW TO BUY during COVID-19- – HOW TO BUY – MOVING MID PANDEMIC – TRUST AGREEMENTS and HEALTH CARE DIRECTIVES – OUR TESTIMONIALS
Got Real Estate Questions? The Caton Team is here to help.
We strive to be more than just Realtors – we are also your home resource. If you have any real estate questions, concerns, need a referral or some guidance – we are here for you. Contact us at your convenience – we are but a call, text or click away!
The Caton Team believes, in order to be successful in the San Fransisco | Peninsula | Bay Area | Silicon Valley Real Estate Market we have to think and act differently. We do this by positioning our clients in the strongest light, representing them with the utmost integrity, while strategically maneuvering through negotiations and contracts. Together we make dreams come true.
A mother and daughter-in-law team with over 35 years of combined, local Real Estate experience and knowledge – would't you like The Caton Team to represent you? Let us know how we can be of service. Contact us any time.
Call | Text | Sabrina 650.799.4333 | Susan 650.796.0654 |EMAIL | WEB| BLOG
The Caton Team – Susan & Sabrina
A Family of Realtors
Effective. Efficient. Responsive.
What can we do for you?
The Caton Team Testimonials | The Caton Team Blog – The Real Estate Beat | TheCatonTeam.com | Facebook | Instagram | HomeSnap | Pintrest | LinkedIN Sabrina | LinkedIN Susan
Want Real Estate Info on the Go? Download our FREE Real Estate App: Mobile Real Estate by The Caton Team
Berkshire Hathaway HomeServices – Drysdale Properties
DRE # |Sabrina 01413526 | Susan 01238225 | Team 70000218 |Office 01499008
The Caton Team does not receive compensation for any posts. Information is deemed reliable but not guaranteed. Third party information not verified.